The Day My Compliance Blog Became Breaking News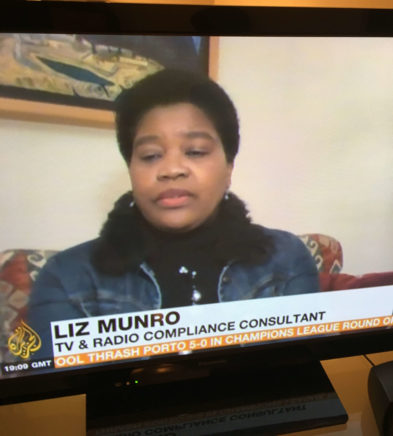 While browsing the website of UK regulator, Ofcom, I noticed that a recently fined news channel was listed as no longer having a licence. It was a surprising turn of events and one which I don't think anyone else had noticed. As I had already blogged about the substantial £120,000 fine imposed I decided to do a quick update on my website and on my Twitter account. This is what happened next.
The Saudi owned news channel Al Arabiya which was recently fined £120,000 by Ofcom no longer holds an Ofcom licence according to the broadcast regulator's website. Either it's revoked, handed back or the licensee ceased to exist. pic.twitter.com/7ly1uJzBeB

— Liz Munro (@comply_TX) February 12, 2018
The tweet was picked up by Al Jazeera and retweeted. On Friday I was on my way out of my office to go to the gym when my phone beeped. It was Al Jazeera. Less than an hour later I was in my living room broadcasting live about the blog via Skype on Al Jazeera's 6pm news and as a recorded clip in subsequent bulletins. It was also nice to dust off my skills as a former television reporter and do some broadcasting at the shortest notice as well as to have an opportunity to discuss broadcast compliance on television.