Salisbury Poisonings – Ofcom Begins 7 Investigations Into RT Coverage
The UK broadcast regulator, Ofcom, has announced that it has opened seven new investigations into the due impartiality of news and current affairs on RT – previously known as Russia Today – the Kremlin backed news channel. Ofcom said that the overall compliance record of RT's licensee, TV Novosti, had not been materially out of line with other broadcasters. But the latest investigations are a direct result of RT's coverage of the Salisbury poison attack on Yulia and Sergei Skripal. And Ofcom has promised to announce the outcome as soon as possible. The regulator found itself at the centre of the storm over the attack on the Skripals when questions began to be asked about the legitimacy of RT.
Ofcom, which has a duty to ensure a licence holder remains fit and proper to do so, says that since the events in Salisbury, it's observed a 'significant increase' in the number of programmes on the RT service that warrant investigation as potential breaches of the Ofcom Broadcasting Code.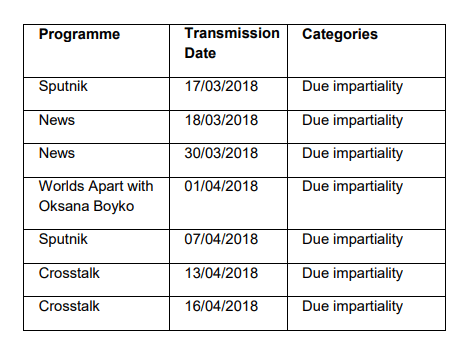 The news channel will be judged on whether it is a responsible broadcaster. Serious, repeated or ongoing breaches of standards will be taken into consideration. Since May 2012, TV Novosti has had 15 breaches compared to one against Al Jazeera, 10 against Sky News Service and 5 against Channel 4 News. The majority and the more serious of RT breaches related to foreign policy and Ofcom's requirement for due impartiality in programmes about Libya, Syria, Ukraine, Turkey and NATO.
Ofcom has the power to revoke a broadcasting licence and, as part of its deliberations on whether a licensee is 'fit and proper', non-broadcasting conduct may also be taken into consideration. TV Novosti is financed by the Russian Federation so Ofcom considers it to be ultimately controlled by them. It lists other state funded broadcasters in the UK as Al Jazeera, Abu Dhabi Media Company, Pakistan Television Corporation Ltd and the BBC.
TV Novosti holds 3 broadcasting licences – two for RT and one for RT Europe – to cover services on satellite, the internet and on digital terrestrial television. RT is made for UK audiences, with the stated aim of providing a Russian perspective on UK and global news and current affairs in English.