After £120,000 Ofcom fine, has Al Arabiya given up its licence ?
In February 2018 Ofcom fined the Dubai based news channel, Al Arabiya, £120,000 for breaching fairness and privacy regulations. It seems the channel has now either voluntarily given up its licence to broadcast in the UK or had it revoked by Ofcom because its name has disappeared from the list of licensed services on Ofcom's website.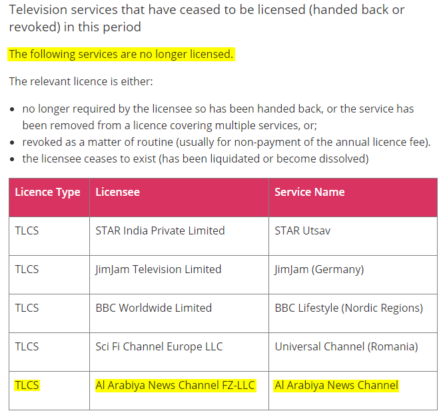 Al Arabiya news channel's problems began when Ofcom found it in breach of its Broadcasting Code for an interview with a Bahraini dissident. Hassan Mashaima was filmed while in prison, explaining the circumstances of his arrest and conviction and confessing to his participation in certain activities.
Three months before the footage was filmed, an official Bahraini Commission of Inquiry had found that similar such confessions had been obtained from individuals, including Mr Mashaima, under torture. During Mr Mashaima's subsequent retrial and appeal, he maintained that his conviction should be overturned, as confessions had been obtained from him under torture.
His relatives complained of unfairness and unwarranted infringement of privacy. Ofcom agreed and took a dim view. This is a good explanation of what went on.
Ofcom found the broadcast was unfair and breached his privacy for three reasons:
The interview footage had the potential to materially and adversely affect viewers' perception of him and that Al Arabiya did not make clear what steps it had taken to ensure that material facts had not been presented, omitted or disregarded in a way that was unfair to Mr Mashaima.
Mr Mashaima did not have an appropriate and timely opportunity to respond to the allegations of wrongdoing being made about him in the programme as broadcast.
He had a legitimate expectation of privacy in relation to the filming and subsequent broadcast of the footage of him without his consent and it was not outweighed by Al Arabiya's right to freedom of expression and the audience's right to receive information and ideas without interference. The broadcaster had therefore unwarrantedly infringed Mr Mashaima's privacy both in the gathering and broadcast of the material included in the programme.
It is really unusual for a broadcaster to be fined under fairness and privacy regulations. Whoever was responsible for making the complaint on Mr Mashaima's behalf had obviously read the Broadcast Code inside out and highlights why broadcasters need to do the same to ensure compliance with the rules.